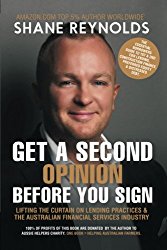 Get a second opinion
Posted on July 03, 2017
Broadbeach Law Group's Special Counsel Jason Murakami was more than happy to write the forward for a new book that lifts the lid on the Australian commercial finance industry.
After a career which has involved acting for company directors, shareholders and consumers following some of Australia' biggest financial collapses such as Citipacific, MFS, Equititrust and Storm Financial, Mr Murakami has an intimate knowledge of the internal workings of the Australian commercial finance world.
"Shane Reynolds' book 'Get a Second Opinion before you Sign' should have been written 10 years ago," Said Mr Murakami who is an Adjunct Professor of Law.
"Whilst there is regulation to protect consumers in the domestic finance industry there is little regulation in the commercial finance industry."
Mr Murakami said anyone seeking commercial finance should not sign anything unless they read this book which was released this week.
"It was a privilege to write the forward on a such an important piece of literature" Mr Murakami said.
To read the recent interview of Shane Reynolds about his ground-breaking new book go to:
http://www.brokernews.com.au/news/breaking-news/author-sheds-light-on-shadowy-world-of-lending-238098.aspx